Maximizing the Potential of Mobile Marketing for Your Brand
Mobile marketing is one of the best ways to extend the reach of your brand. From trade shows and exhibits to specialty marketing events and more, taking your company name on the road means you'll be able to maximize your reach in selected areas that have a high concentration of targeted and qualified consumers.
If mobile marketing is a new concept for your business, consider the following beneficial tips to help maximize the potential of your company's mobile campaign:
Select Specialty Events for Your Mobility Tour
To maximize your advertising dollars and time on the road, target events and trade shows that relate directly to your business. Doing this will help you ensure increased exposure among consumers who are there to potentially see what you have to offer.
Using brand promotion with mobile marketing is a great way to maximize your time between conferences and to help your brand stand out from your competitors at the event.
Improving the Look of Your Mobile Marketing Vehicle and Exhibition
Conventions and trade shows offer the perfect marketing stage for consumer engagement on a personal level. Personal product testing and sampling by your target consumer is the best way to sell products. To get people to test your products, you must first attract them to your company's exhibit. Use the following tips to help increase your exposure in any crowded convention showroom:
Concentrate on the Elements – If you know the psychology of your customer and what colors, pictures and phrases they like, use this information to focus on integrating a few key elements into your mobile exhibit. Use the space you have on your exhibit to create a high impact first impression and use that emotional experience to pull them towards your booth.
Immerse Your Consumers in Your Brand – Don't let your consumers walk away forgetting what they experienced at your exhibit. From the moment they walk up to the moment they leave, create an experience for them that will embed a lasting impression into their minds. Depending on what your product or service is, you can offer demonstrations, let them test the products in a variety of situations and give them free branded items as a thank you gift for participating. With brand activation, the best way to make this type of impression is to think of a demonstration or an activity that will test the boundaries of your products. For example, an SUV can be driven up a very steep ramp to show its 4×4 capabilities, while a smartphone can be dropped from two stories in the air to show how strong it is.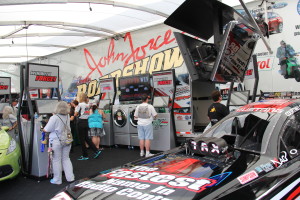 Make it Mobile
Convert an RV or 18-wheeler into a Mobile Exhibit for Brand Promotion- Mobile marketing exhibits are great because they require less people to operate during an event or convention. You can paint and decorate the exterior with elements of your brand that appeal to potential consumers, while converting the interior into a space for product demonstrations. Brand activation is one of your primary goals during an event or trade show; inviting potential customers into an enclosed space is one of the best ways to reach this goal because you can get them excited about your company without any distractions.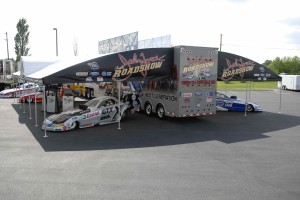 Alpha Canvas can help you create a complete mobile display that can be quickly set up, used, then easily broken down and re-packed for transportation to a new location. Our services can include wrapping your transport vehicle as well as designing and constructing all the display components — stage, tent, backdrop, tables, flags, signage and anything else your specific display may need. We can help make your road show a big success.